Linkin Park literally erupted onto the scene at the turn of the millennium with Hybrid Theory. A powerful, nu-metal album infused with electronic elements that took the world by storm, it went Diamond and Multi-Platinum is multiple countries and with the following album Meteora, the world was in their grasp.
With more awards than can be counted on two hands, mash-up albums with legendary rapper Jay-Z and several others and twists and tweaks over the coming albums altering and experimenting with their unique sound and terrific production values, they seemed unstoppable.
Now I have to write a small disclaimer here. Hybrid Theory was the first album I ever bought on CD for myself at the tender age of eight, and I've loved nearly everything this band has produced over the years, so naturally I was extremely excited to review a new Billboard topping album by Linkin Park. But simply put, it's topping the charts because it sounds NOTHING like Linkin Park.
I'm a great believer that a band doesn't 'sell out' simply because they polish up their sound and get a better record deal, I've argued that point vehemently in defence of rock and metal artists, ultimately, the band needs to eat and see reward for years of hard work. This time round however, I'm forced to eat my words.
The album opens with Nobody Can Save Me, immediately it's a far cry from Hybrid Theory and Meteora, it immediately feels different and that they've moved away from their roots. Dubstep 'wobs' and synth effects drop throughout the song. It genuinely feels poppy and as a long time fan, I have no idea how I should feel about this as an opener but I remained hopeful.
Good Goodbye (feat. the ubiquitous Stormzy and lesser known Pusha T) jumps straight into rap vocals and a trap backbeat makes the song feel very 'on trend' but that shouldn't be the point from a heavyweight band in their prime. At this stage in the album with the computerised sounds and drum machine, I feel like this is simply Chester Bennington banding up with Avicii or Skrillex. Lyrically the content is weak and retains none of the emotion seen on previous albums.
In Talking To Yourself we're led in with guitars backed with a synth organ, I'm praying for a reprieve from the first two songs but I remain disappointed. Where the band formerly fuelled songs with unbridled rage and impassioned performances, we're left with angst, in this song it takes the form of Bennington seemingly whining (to a tune) about not being able to understand a relationship. Battle Symphony is hot on the moaning heels and opens like an Ellie Goulding song with auto-tuned vocals for an intro. Followed by a softly sung, synth and drum backed intro sung tunefully. But for a song named Battle Symphony, I'd expect the fury we're used to from the band, not a song that could genuinely pass for bubblegum pop.
Heavy (feat Kiiara) comes a touch later in the album and ultimately, the lyrics are good here, I have to admit the message about mental health in this song is on point, and if I'm to have my arm twisted to pick a favourite song, this will stand head and shoulders above the rest, which doesn't say much if I'm honest.
Sorry for Now (if only they were) is the point where things start to feel a little Owl City, I'm honestly lost by this point, the band I've known and loved since picking the debut album in primary school is unrecognisable and with Halfway Right and One More Light following in much the same vein, I'm left feeling the album can't be rescued at this point.
Sharp Edges is the final track and it's here we hit an acoustic guitar backed song. Once again, a decent message that could be construed as a point on mental health, it's not a bad song at all, and would be worth a listen if only for the legendary production the band has always (and even in this case) managed, but by the point it rocks around in the album, this reviewer is too busy mourning the loss of the band he feels he's lost and only retains a watermark of it's former self by the excellent recording quality they turn.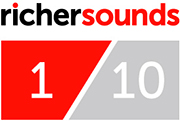 Author: Steve, Southgate store